R

e-Opening the Office




---
Are you ready to come to the office, for in-person sessions?
Re-opening requirements from the MA DPH are being followed.
Face masks and social distancing are required.
Sanitizing wipes, hand sanitizer, face masks, and gloves available.
No-touch soap dispenser and trash cans for safe use.
Social Distancing IS required in the Counseling Room.
Face Masks ARE required IF
you have symptoms, or if you have been in
 high risk exposure situation in the last 2 weeks.
An air purifier cleans the air in the counseling office.



Arrival shortly before your session will minimize your exposure time.
·Maximum three persons per session or in the Waiting Room
One toy may be used in the Waiting Room for each client visit
Toys are sanitized after each use
.Air conditioners will be circulating the air.

Your safety and comfort are important!  Please share any concerns!
---
When you arrive at the office, please stop before entering the Waiting Room for a Symptom Checkpoint.
If you have a fever, cough, or don't feel well, please re-schedule your session.
We have a no=touch thermometer to measure your temperature.  We have an oxymeter to measure your blood oxygen level, which is lowered when Covid-19 is present.
---
The waiting room is divided in half, to allow social distance between parties using the room.  Seating limits the number waiting to three people.  Please choose a side to sit on, so that the other side is available.
The air conditioner moves the air so that potential COVID-19 on water droplets floating in the air can be minimized.
There is a refrigerator with beverages for clients.  Please use the hand sanitizer BEFORE opening the door to make your selection.
---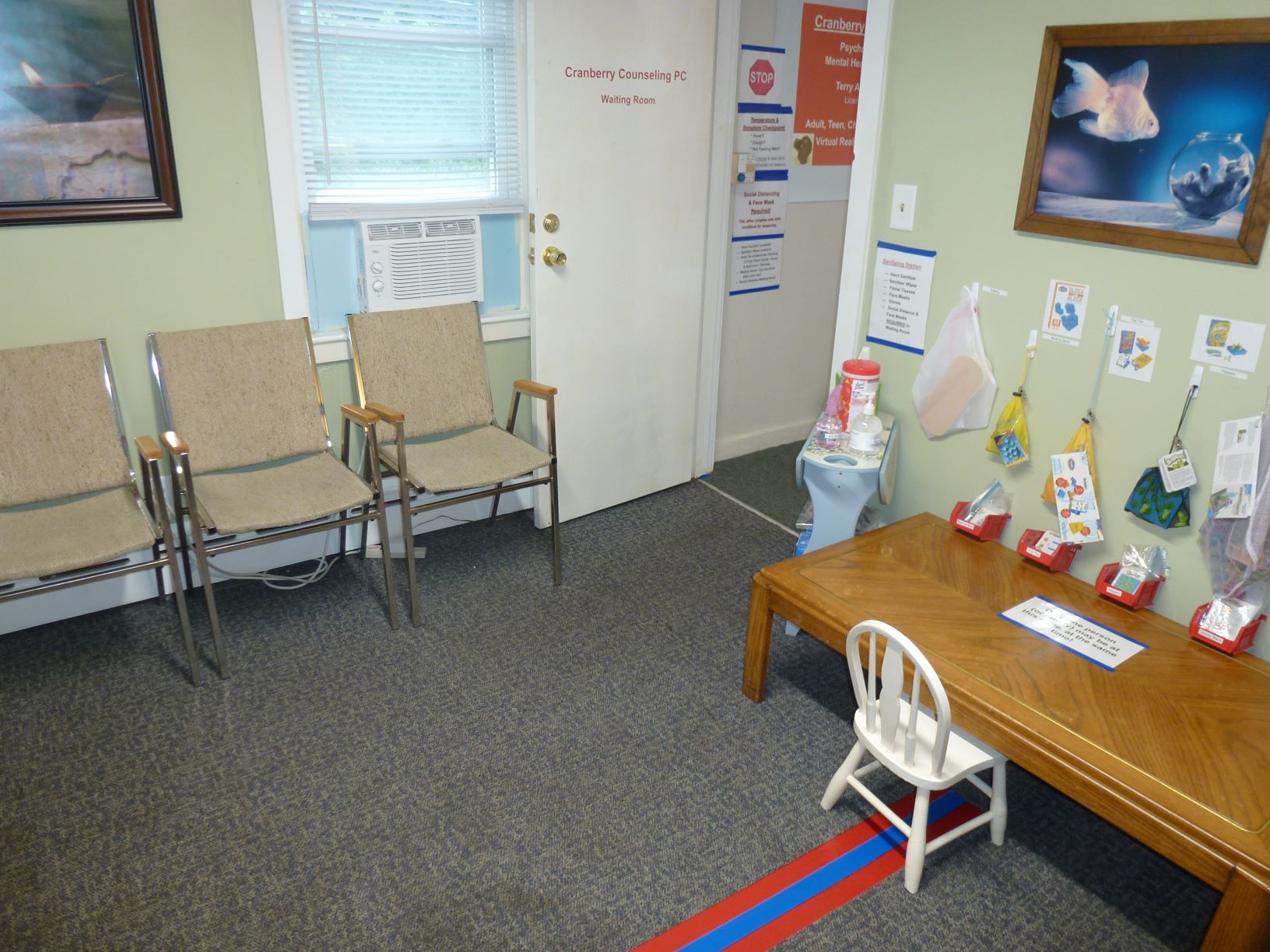 A view of the other side of the waiting room.  You can see the toy area, and the sanitizing station by the door.
Hand sanitizer wipes and spray.
Disposable face masks.
Gloves - latex & vinyl
---
This is the toy area.  One toy may be used by each group waiting.
Toys are sanitized after each use, for safety.
Place the toy you sue in the bucket when you are done.
Cards for games are in boxes, and are wrapped in small groups for use.
ALso place these in the proper box after use to be sanitized.  Please discard the wrapper for the cards.
---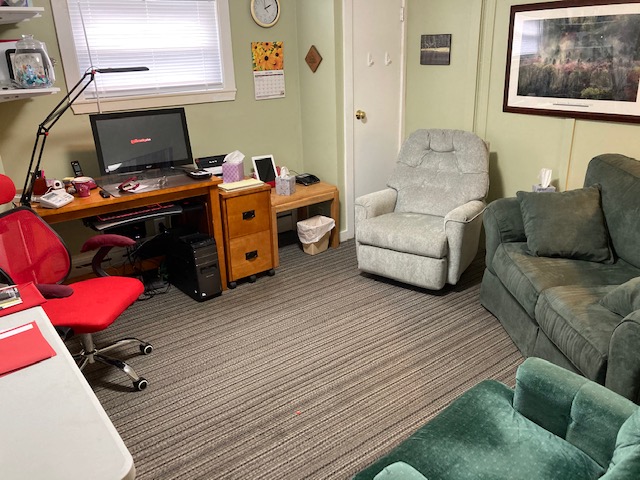 The counseling room has been arranged to allow for social distance between you and Dr. Hayes.
An air purifier removes particles from the air for safety.
Face masks are optional.
Face masks are required if you have been in a high risk exposure area in the last two weeks, if you have symptoms, or if you have been exposed to someone who tests positive for COVID-19.