Links are offered to make purchase of these publications easy.  Amazon is the vendor selected for these links.  Amazon offers lists of books with related topics as well as books that are purchased by people buying the recommended book.  New editions are available in either hard cover or paperback, and used editions are also offered.  Many other vendors offer these titles as well.
These cards are useful on a daily basis for building your child's self esteem and emotional wellbeing.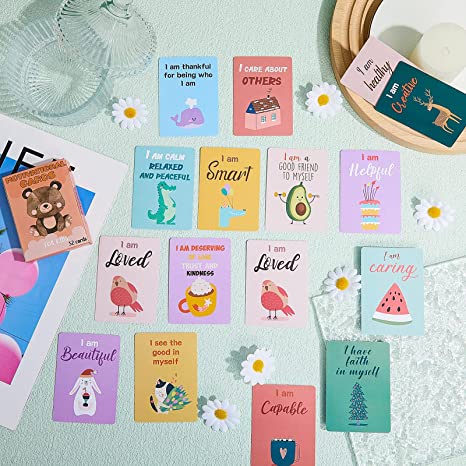 ·         Items Sent to You: there are a total of 52 pieces of kid affirmation cards and 1 piece of package box for you, the cards are available in 52 different designs, bright and adorable, sufficient to meet your daily use and sharing needs
·         Exquisite Kid Affirmation Cards: these kids daily affirmation cards are design with colorful patterns and positive words, which are a fun activity during meditation for kids, helping your kids to create a good daily habit, as well as encourage and motivate them
·         Reliable Material Selection: these child affirmation cards are made of quality cardstocks, which are thick and reliable, not easy to curve, hard to fade, round corners without burrs or furs, so that you can use them with confidence
·         Scenario to Use: these inspirational cards set can encourage parents and children to communication between each other, learn to start a conversation with a compliment, ideal for kids, teens, parents, students, classroom, school counselor supplies, children counseling and so on
·         Sweet Gifts for Kids: these colorful inspirational cards are exquisite and considerate educational gifts for newborns, infants, kids and toddlers, showing your care and love, also boosting the relationship between you and your child.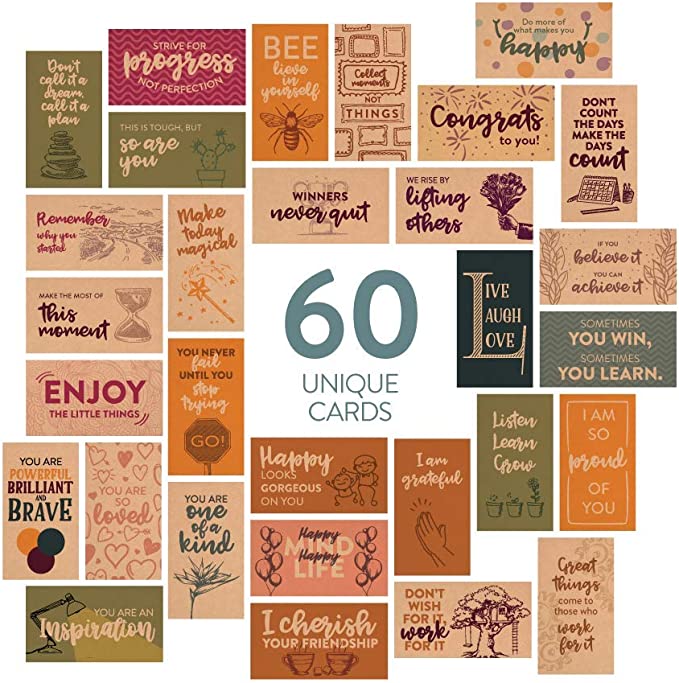 ·         Show Anyone How Much You Care: Brighten someone's day with these fun and colorful gratitude cards. Perfect for loved ones, family members, friends, coworkers, employees.
·         60 Appreciation Kraft Cards With Unique Quotes For All Occasions: Spread love, positivity, encouragement, praise or joy in a personal and practical way.
·         Sharing Kindness and Positivity Made Easy: Write a personalized note on the blank back of the positive affirmations cards as every kind word makes a difference.
·         Your Personal Message Will Go A Long Way: Thinking of you cards printed on thick 300 gsm (14 pt) recycled paper. Business card size (2'' x 3.5''), easy to carry in a wallet, purse or pocket.
·         Guaranteed Purchase: We stand behind our products. If for any reason you are not completely satisfied with your purchase, please contact us for a replacement or full refund.
Your second block of text...